New partnership takes aim at extreme heat in Atlanta
April 12, 2021
By Selena Langner & Kelsey Abernathy
Extreme heat is the leading cause of weather-related deaths in the United States, and cities, with their vast stretches of pavement, are some of the hottest places around. In a phenomenon called the "urban heat island" effect, cities can register up to 20F hotter than surrounding areas, with temperatures varying widely from block to block.
Over the next six months, fifty student and community scientists are helping map Atlanta's hotspots by collecting local temperature data with high-tech mobile sensors. These volunteers are measuring ambient temperature throughout Atlanta through the hottest months of the summer as part of a new initiative: UrbanHeatATL.The UrbanHeatATL team consists of academic and community partners including Georgia Tech, Spelman College, the West-Atlanta Watershed Alliance, the Partnership for Southern Equity, the Harambee House, and the City of Atlanta Department of Sustainability. The initiative is funded by seed grants provided by Georgia Tech, including the College of Sciences.
Community scientists connect a handheld PocketLab temperature sensor (left) to a smart device to measure temperature along a route. The data collected can be used to create maps showing where temperatures are hottest. This volunteer's path (right) shows red where temperature is hotter and yellow where temperatures are lower.
UrbanHeatATL is using community-driven science to map urban heat islands in Atlanta to better understand how extreme heat impacts Atlanta's most vulnerable residents. During a kickoff panel hosted by the Atlanta Science Festival, experts noted the strong links between extreme heat and historic racism, including redlining, that place low-income communities of color at disproportionate risk.
"The urban heat island effect has been studied for decades and is scientifically well-understood. However, new light is being shed on the disproportionate impacts it has on vulnerable or marginalized groups" notes Dr. Marshall Shepherd, an urban climate expert at UGA who shares his insights on the UrbanHeatATL panel.
Over 140 virtual attendees listened to panelists Dr. Jalonne White-Newsome, Chandra Farley, Dr. Jeremy Hoffman, and Dr. Shepherd, who fielded audience questions. "Learning about urban heat islands and their relationship with vulnerable communities in urban areas was absolutely eye-opening" said Holly Hudson, a local highschooler who participated in the Atlanta Science Festival discussion.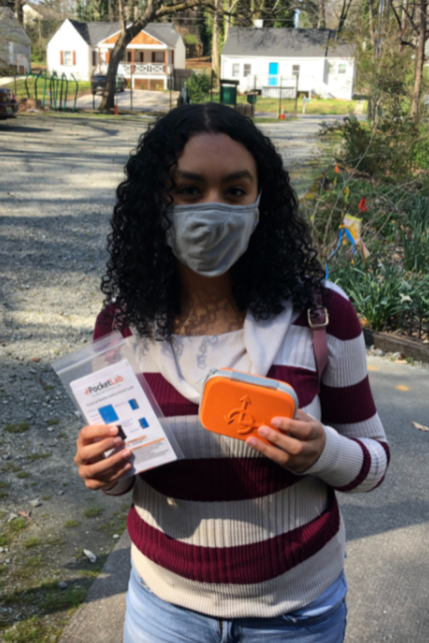 Students from both Spelman College and Georgia Tech have been instrumental in the new initiative. Forty students are volunteering as data collectors, recording temperature readings with a small personal sensor. As part of the project, students design their own data-collection routes- often either an area they are particularly interested in, or a route they commonly walk or bike on as a daily commute. After setting up their sensor and connecting it to a smartphone app with guidance from the UrbanHeatATL team, volunteers share their data and findings over the web, making it possible to do impactful, socially-distanced research with a large team. A second team of students will install, service, and monitor stationary sensors at the Spelman and Georgia Tech campuses, and in key areas identified by the West Atlanta Watershed Alliance. Six summer interns from both Spelman College and Georgia Tech will work to support the initiative over the summer, including two interns who will work directly with Shelby Buso (City of Atlanta, Chief Sustainability Officer).
"Deciding to join this project was a simple decision" says summer intern Sadica Murphy. "I wanted to apply my public health and health equity knowledge as a Health Science major at Spelman College to assist with reducing weather-related health issues in the Metro Atlanta area. As a future physician, my plan is to use an interdisciplinary approach for treating patients, and my work as a data analyst this summer will bring me a step closer to accomplishing this goal."
The UrbanHeatATL project will continue to collect temperature data throughout the summer, and all data and findings are publicly available through a data visualization portal. Later this summer, the UrbanHeatATL team will participate in an intensive 1-day urban heat mapping project funded by NOAA, coordinated by Dr. Guanyu Huang at Spelman College, that will provide a large trove of data about Atlanta's urban hot spots.
Explore maps and data, learn about upcoming events, and stay up-to-date on the project at urbanheatatl.org. Collaborating academic units include Georgia Tech Global Change Program, Georgia Tech Center for Serve-Learn-Sustain, the Georgia Tech Urban Climate Lab, and Spelman College Environmental and Health Sciences Department.
Watch the full panel discussion here.